THANK YOU FOR JOINING!
Thank you for joining our Healthy Holiday Virtual Cooking Experience with Michelle Harris and Sync Registered Dietitian, Lauren Zimmerman. Below you will find a step-by-step prep guide to reference if needed during tonight's class.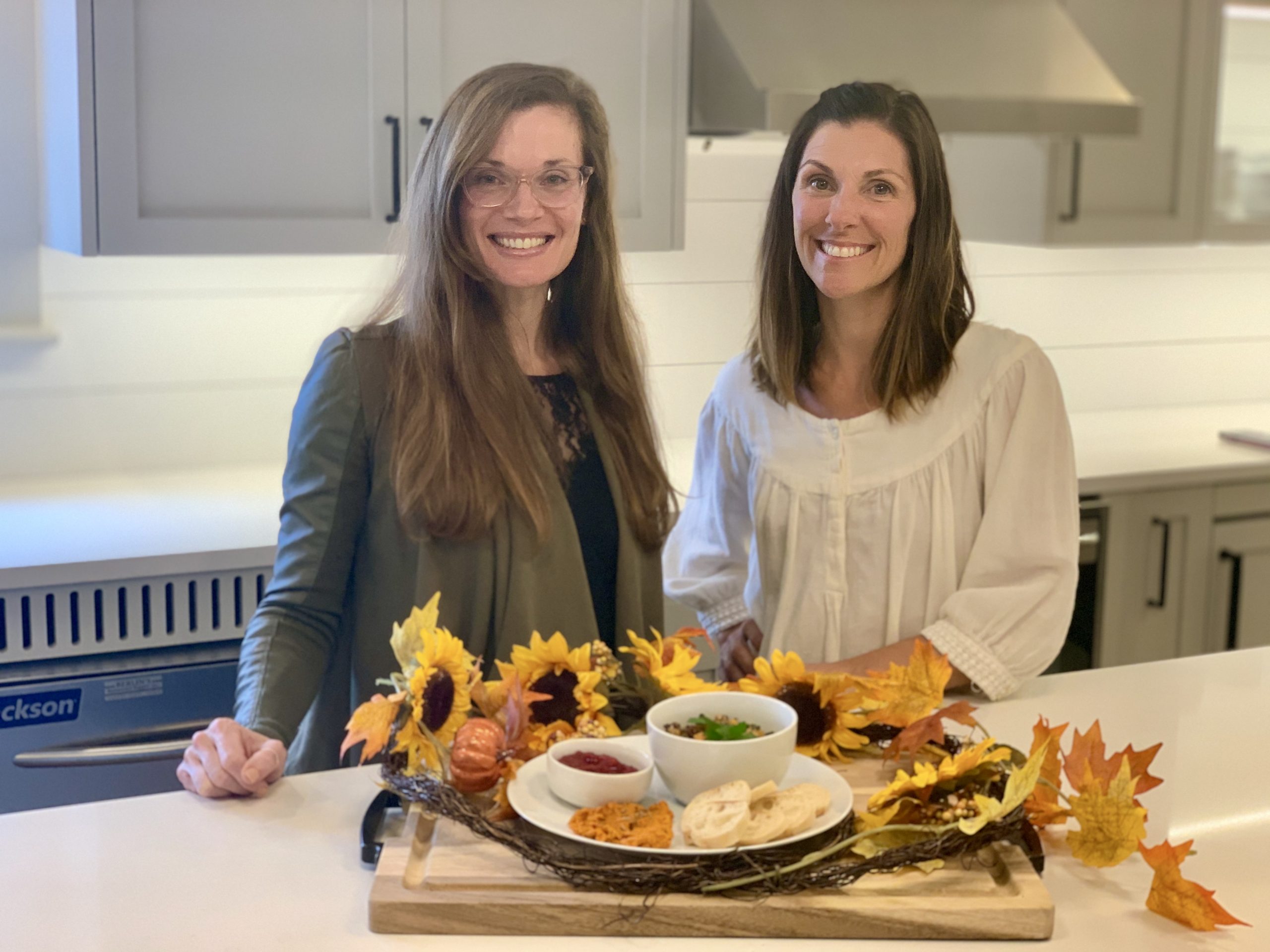 Step 1 - Peel & Cube Sweet Potatoes
Instructions
Peel, and cube into very small squares.
Prepare a shallow frying pan with either a 1/2 cup of vegetable broth or water and place sweet potatoes in the pan on the stovetop over medium heat.
Cover and steam until soft, about 8 minutes.
Remove from heat and liquid, set aside, let cool.
Step 2 - Preheat the oven to 425 degrees
Step 3 - Prep Carrot Hummus
Instructions
Prepare a medium sheet pan with parchment paper

Peel and slice 10 carrots long ways in half and then quarter making them the same size so they bake evenly

Place in a

bowl

with 1.5 tablespoons Avocado oil, 1 tsp za'tar, salt and pepper, and combine.

Transfer to prepared sheet pan and place in preheated oven to roast for 25 minutes, making sure you can pierce with a fork

Set aside to let cool
Step 4 - Make Cranberry Apple Sauce
Instructions
Peel and chop apple into small cubes 

Combine 2 cups of Cranberries, chopped apple, ½ cup of maple syrup and a small pinch of salt in a small to medium pot and bring to a boil over high heat and then reduce to medium.  Simmer uncovered for 10-20 minutes.

Once reduced, use emulsifier or blender to mash up and combine.
Instructions
Crimini mushrooms (10oz)

Wash, pat dry and cut into pea sized pieces, set aside.

3 medium Garlic cloves Minced 

Destemmed Kale leaves ( 2 ½ cups)

Tear Kale and then PULSE in the food processor.  Do not over process, allow to remain loose. Remove to a separate bowl set aside.

Dried

Cherries

or Cranberries (½ cup)

Finely chop and add to the bowl with the kale

Prepare Ground flax (1 tablespoon)

If using whole seeds, grind in a coffee grinder or small food processor or blender

Place in a bowl and add 3 tablespoons of water and set aside

Add 1 tablespoon of EVOO to medium stock pot on low/medium heat
Add mushrooms, minced garlic and a pinch of salt. Combine and sauté for about 6-8 minutes until the water from the mushrooms cooks off, reducing heat to low if necessary.
Step 6 - Prep Lentil and Pecan Mixture
Instructions
Add rolled oats (1/2 cup) to accommodate as needed. Course into a flour with food processor or blender (about 30 seconds)
Add the canned lentils, pecans, 1 tsp of salt, and a dash of pepper
BE SURE NOT TO OVER PROCESS INTO A PASTE.
SIMPLY PULSE,  CHECKING EVERY FEW PULSES, UNTIL COARSELY CHOPPED
Step 7 - Final Stretch for Stuffing
Instructions
Once the liquid in the mushrooms has reduced, turn the heat off. 

Add the Oregano, thyme, sage, sherry vinegar and ground flax and combine.  

Now fold in the kale and dried cherries.

Lastly, gently incorporate the Lentil and Pecan mixture along with sweet potatoes and season to taste with additional salt and pepper. 

Garnish with fresh herbs on hand and serve
Step 8 - Complete the Carrot Hummus
Instructions
Add the cooled carrots to a mixing bowl along with the following: 

1.5 tablespoons tahini
2 teaspoons lemon juice
1 minced medium garlic clove
1.5 tablespoons Avocado oil
Salt & Pepper

Using an emulsifier or blender, combine ingredients to preferred consistency
Transfer to a bowl, garnishing with 1/2 tsp of za'tar and drizzle of avocado oil
Serve with assorted crudités and/or toasted pita or baguette