Dr. Will Bulsiewicz is shaking up his field by taking a gut healing, nutrition first approach to medicine and health.
Check out Sync's interview with Dr. B to see why 80k Instagram followers have eagerly awaited his new book, Fiber Fueled.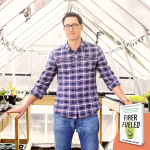 About Dr. Will Busiewicz
Dr. Will Busiewicz is a local gastroenterologist at Lowcountry Gastroenterology and gut health expert who combines his 14 years as a MD with the latest cutting-edge medical research to help people take better care of their gut health through the power of plants.
For more resources, check out his website – https://theplantfedgut.com/