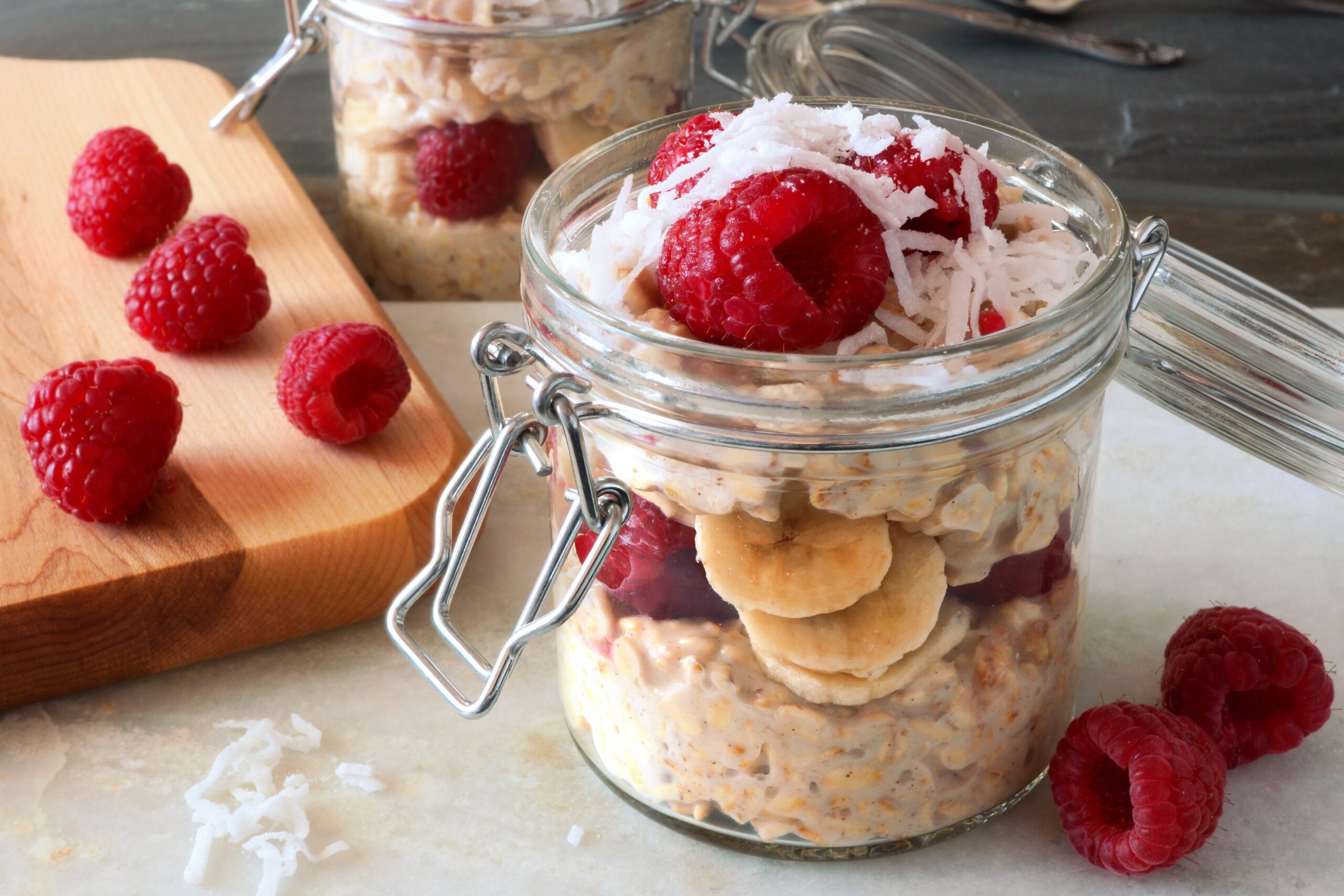 Adding oats to your diet regularly is a great way to improve your overall health at a great cost and provides a delicious way to start your day.
Oats are high in the soluble fiber beta glucan, which helps lower cholesterol and balance blood sugar levels, ultimately reducing the risk of heart disease and diabetes. Additionally, oats are loaded with quality protein, higher than many grains, along with vitamins, antioxidants and minerals.
Flavorful ways to elevate your oats:
Think milk and brown sugar are the only way to eat them? Think again! Here are 6 of our favorite ways to enjoy oats.
Overnight oats have skyrocketed in popularity and are an easy way to prep the night before. Simply soak oats 15-20 minutes with your favorite plant-based milk and add a squeeze of lemon – this helps with absorption and helps release even more nutrients. Prefer your oats chilled? Pop them in the fridge overnight and enjoy them cold or warm the next day. Some great additions include adding a nut butter and fresh fruit, making it more filling and delicious.
Oatmeal bake – mornings are busy in many households, so why not prep an easy oatmeal bake? Simply reheat in the AM for a warm and tasty breakfast. Check out https://www.skinnytaste.com/baked-oatmeal-with-blueberries-and/ for some delicious recipe ideas. You can always adjust these types of recipes as well. For example, to make the linked recipe entirely plant-based, swap out the egg for a flax "egg" by mixing 1Tb ground flaxseed with 3Tb water. The type of milk can be versatile as well. If you do better without dairy, soy milk will provide a similar protein content and creamy texture.
Add some fruits and spices! – oatmeal can be prepared hot or cold, and you can add in any topping of your choice. Putting fruit in your oatmeal from frozen, fresh, or even cooked down adds a natural sweetness to the oats. As a tip, cooking the fruit will intensify the sweetness.
Smoothie enhancer – you can also throw rolled oats into your favorite smoothie which will give it some added chew and thickness. Adding oats to a smoothie can also encourage recognition of having eaten, meaning you will feel more nourished and less hungry.
Savory oats – although oats are frequently prepared sweet, you can also make savory oats. Prepare them as a side or enjoy them in your breakfast. You can include ingredients like caramelized onions, mushrooms, peppers, tomatoes and avocados.
Blended oats – you can also blend oats into a flour and make a quick bread, banana bread, or muffins. Oatmeal recipes are also great for quick bites and can be mixed into a ball shape to create a wholesome snack. Think cake pop, but much better for your body.
Below is our favorite golden milk oat recipe:
Ingredients 
For the golden milk:
1 cup coconut milk
½ tsp turmeric
1/4 tsp cinnamon
¼ tsp cardamom
1/4 tsp ginger powder
1/8 tsp black pepper
1 Tb honey
For the oats:
1/2 cup oats
2 TBs ground flaxseed
5 TBS chia seeds
Directions 
In a small saucepan over low-medium heat, whisk together milk and spices until warm. Add in honey. Whisk again until honey is dissolved. Do not let mixture come to a boil. Remove saucepan from heat and allow to cool for 10 minutes.
In a bowl, add oats and chia seeds. Pour cooled golden milk mixture into bowl and stir together well. Place in refrigerator for 20 minutes to cool. If you prefer warm oats, add oats to saucepan and cook until soft.
Serve with blueberries and almonds.
Tip: Make 3-4 servings at once for ease of meal assembly. Oatmeal will keep in refrigerator 3-4 days.
Looking for ways to beef up  your nutrition? A recent study showed that when patients attended 2 to 6 nutrition sessions over a period of 6 to 12 weeks, LDL and cholesterol levels were lowered by 7 to 21%.
Schedule a free nutritional consultation with our Registered Dietitian –