Good Mood Food: Meal Prep Virtual Cooking Class
Join Registered Dietitian, Lauren from Synchronicity, for a Saturday morning of Good Mood Food Meal Prep. Healthy eating takes a little planning. We also know there are key nutrients that play a role in our mood. In just one hour's time we will prepare mood boosting sauces, garnishes, and staple ingredients you will be able to incorporate in multiple ways throughout the week.
This free interactive experience will be held via Zoom and held on Saturday, March 27th from 9:30 – 10:30 AM. Grab a family member or friend and join us from the comfort of your own kitchen.
We look forward to "seeing" you on the Zoom!
Details
When: Saturday, March 27th
Time: 9:30 to 10:30 AM
Itemized grocery list will be sent out 1 week prior to cooking class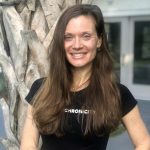 Lauren Zimmerman, Registered Dietitian
Lauren has been a registered dietitian for 6 years and helps others develop practical and enjoyable lifelong nutrition habits to improve health, well-being, energy levels, confidence, and digestion. She focuses largely on a whole food, plant-based nutrition approach to health.