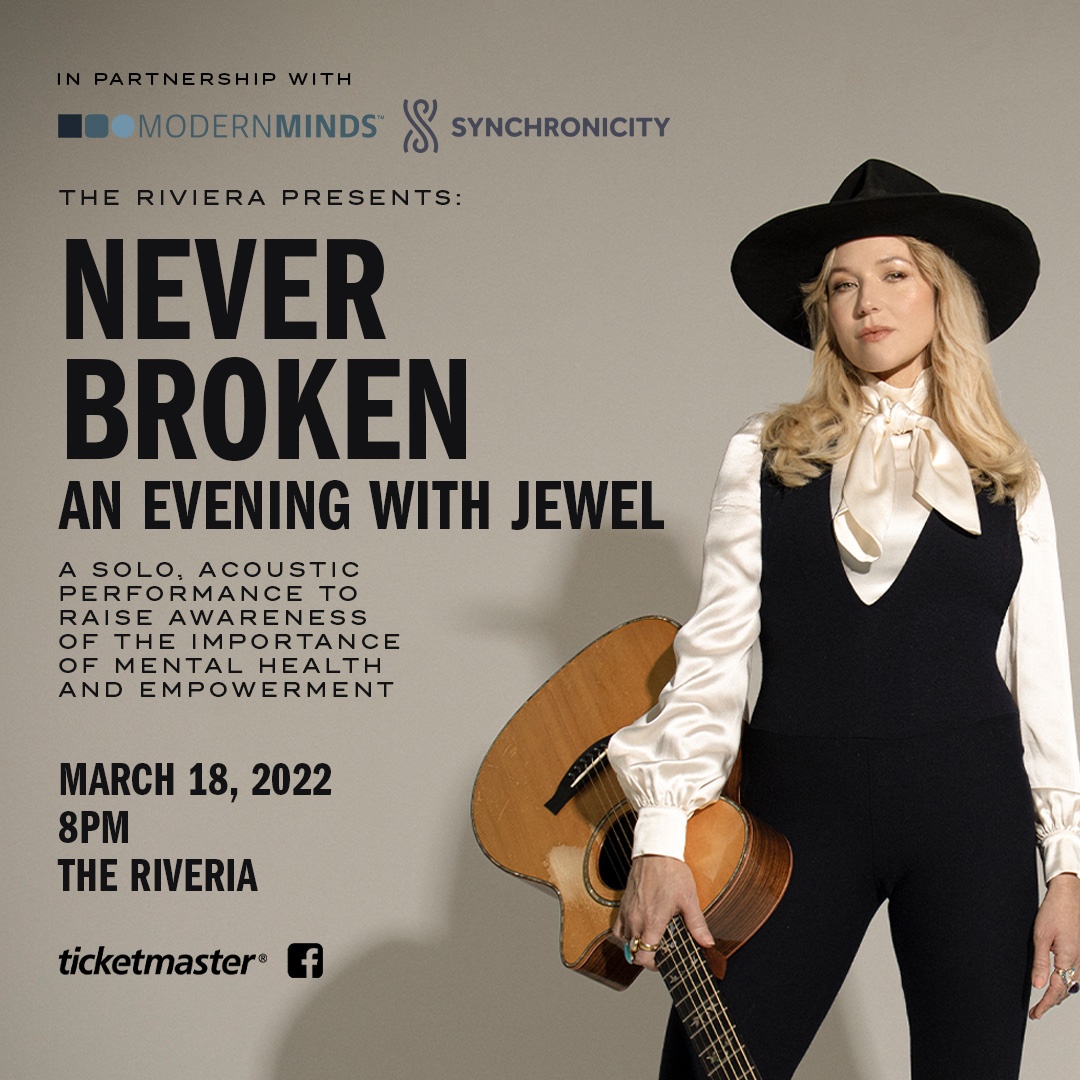 "Intimate performance to shine light on the importance of mental and physical wellbeing"
The Riviera, Charleston's 1930s Art Deco theater, is thrilled to announce its inaugural concert with Grammy-Nominated artist Jewel on Friday, March 18, ahead of her upcoming album release, Freewheelin' Woman. Doors will open at 7 p.m., and "Never Broken – An Evening with Jewel at The Riv" will begin at 8 p.m. This intimate and stripped-down performance is sponsored by local health and wellness facilities, Modern Minds, a new type of mental wellness clinic with an integrative, holistic approach that incorporates evidence-based physical and mental health tools to working-age adults struggling with anxiety and depression, and Synchronicity, a wellbeing oasis committed to building and empowering a community centered around growing our physical, mental, and spiritual well-being.
The show is an important step in raising awareness around the mental health needs in our communities and shining a light on the resources people of all ages can use to empower personal growth. Tickets are on sale ranging from $50-$200 per ticket at Ticketmaster. In addition to a solo, acoustic performance, Jewel will share stories about the pivotal role mental health awareness has played in her life. She will also discuss the personal practices she adopted to help improve her mental health and strengthen her resilience over the years. "Finding balance and happiness has been a lifelong journey for me that started at a very early age," shares Jewel. "I hope that in sharing my experiences with others that we can work towards a more conscious and empowered state of well-being together. I am thrilled to join this important event with Modern Minds and Synchronicity, who are so thoughtfully helping to build a better future in wellness."
Modern Minds and Synchronicity will join the discussion with their latest integrative approach to mental wellness that focuses on the mind-body connection and the utilization of physical and mental recovery tools. "Jewel is on a mission to bring awareness, hope, resources, and tools to all people who want to improve with their mental health. This mission aligns beautifully with that of both Modern Minds and Synchronicity, and we are humbled to bring her important message to Charleston," says Brian Durbin, Director of Programming at Synchronicity.
"Modern Minds and Synchronicity were founded with a mission to provide integrative mind-body treatments and to empower people with the tools they need to improve their mental health.  Like Jewel, we too believe that no one is broken, and we strive to provide the therapeutic space and tools for those who seek a path to healing and wellness," says Dr. Kelly Holes-Lewis, psychiatrist at Modern Minds.
---
About Jewel
Jewel went from a girl who grew an Alaskan homestead, to a homeless teenager in San Diego, to an award winning,  Multi-Platinum Recording Artist who released one of the best-selling debuts of all time. Through her career Jewel has sold over 30 million albums worldwide and has earned multiple nominations and awards including Grammys, American Music Awards, MTV Awards, VH1 Awards, Billboard Music Awards, and Country Music Awards. Jewel has been featured on the cover of TIME Magazine, Rolling Stone, performed on Saturday Night Live, at the Super Bowl, the NBA Finals, for The Pope and The President Of The United States. She will release her first new studio album in 7 years, Freewheelin' Woman, on April 15th. For nearly two decades, Jewel's non-profit, the Inspiring Children Foundation and her Never Broken program has been empowering children struggling with financial hardship, anxiety, depression and suicidal ideation by giving them the ultimate environment to survive then thrive at the highest levels. For more information on the foundation, please visit www.InspiringChildren.org and to access Jewel's free online tools, please visit www.JewelNeverBroken.com.
---
In the Press