In our interview with Dr. Andy Huchingson, he explains why he teaches mindfulness to his patients, and the community, and how you can begin reaping the benefits today.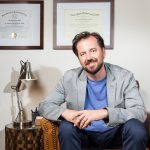 About Dr. Andy Huchingson, M.D.
Dr. Andy Huchingson is a local physician who believes that, whether dealing with relationship difficulties or complex mood disorders, the most successful treatments integrate therapy, mindfulness and medication, when necessary, to provide the most effective solutions for his patients.
For more resources, check out his website – https://www.andrewhuchingsonmd.com/